On June 22nd, 2016 Emirates 80th Airbus A380 was delivered. After a ceremony in Hamburg, Germany, where Airbus' final assembly for the Airbus A380 aircrafts is located, the aircraft, registered A6-EUB, visited Vienna, Austria. Emirates will start using the Airbus A380 on a regular basis on one of its Dubai-Vienna-Dubai rotations on July 1st, 2016.
Emirates took this chance to hold a big event for special guests, business partners and media representatives. And of course, we were there too!
Upon arrival all media representatives recieved a badge and an A380-shaped USB-flash drive containing important information regarding Emirates in general, its A380s and Emirates presence in Austria. The event was held in a large event room located in the General Aviation Center, also known as the VIP Terminal, at Vienna Airport. Among the guests were representatives of Emirates, Vienna Airport, various newspapers and TV stations and VIPs, including Niki Lauda, founder of Lauda Air and FlyNiki.
The guests were welcomed with a selection of freshly squeezed juices made of water melon, orange or carrot. Throughout the event the guests were offered a wide range of imaginative Canapés. Starting with cold snack such as olives with yogurt, water melon and sheep's milk cheese and carrot-humus and followed by warm Canapés like grilled chicken with peanut sauce or spring rolls. This delicious catering was provided by Do&Co.
After a short welcome by a representative of Vienna Airport, Martin Gross, Director of Emirates Austria held a speech about the excellent cooperation between Emirates and Vienna Airport over the past 12 years, about the conituous growth since 2004 and of course about the Airbus A380. Afterwards Julian Jäger, CEO of Vienna Airport also delivered a speech about the excellent cooperation with Emirates, the growth of Vienna Airport in general and about future plans which will positively effect Emirates, such as the addition of a third jetbridge to the A380-position and a construction of a lounge area for Emirates.
Afterwards all the guests were taken on a tour thorugh the brand new A6-EUB. The aircraft was delivered to Emirates the day before and had not operated a revenue flight yet, so we were among the first people ever to see this aircraft. Currently one out of three Airbus A380s in the world are flying in Emirates colours. With 62 more on order Emirates is by far the most important customer of the so called Super Jumbo. With its 80 A380s Emirates serves 40 destinations worldwide, with Vienna becoming the 41st starting on July 1st, 2016. Depending on the configuration Emirates' A380s can hold between 489 and 615 passengers.
ECONOMY CLASS
By far most of the 57 million passengers that flew with an Airbus A380 of Emirates already have experienced the Economy Class. Up to 429 passengers can fly in its Economy Class. Every seat is equipped with an HD LCD-Screen with access to Emirates' award-winning ICE entertainment system. If you still get bored, you are free to use the complimentary inflight Wifi. Power outlets to charge your electronic devices can also be found at every seat together with a USB port.
By the way, we already have a tripreport about Emirates' A380 flight from Vienna to Dubai here!
BUSINESS CLASS
The Business Class cabin aboard Emirate's A380 can hold up to 72 passengers. Every seat can be turned into a full flat bed and has its own mini bar, the drinks in it are, of course, complimentary! Additionally the seat features a dual USB-port, a power outlet, a touchscreen control panel, a huge HD LCD screen and an optional barrier if you want that extra bit of privacy!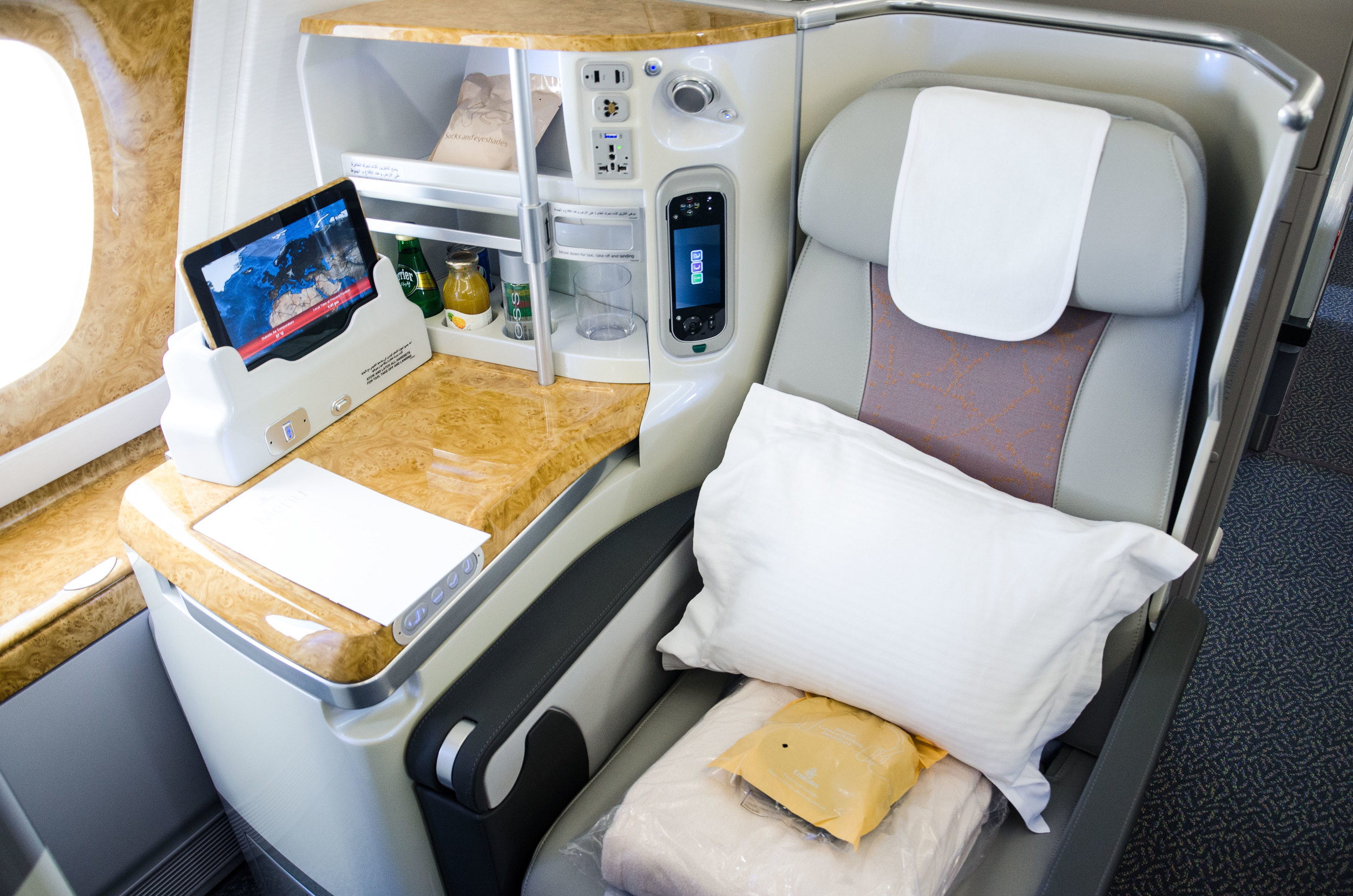 A lounge area, which is available to all Business and First Class passengers, is located in the back of the upper deck. A variety of beverages, including selected wines and spirits, as well as little snacks can be consumed thorughout the whole flight. The lounge area also features a seating area and a large TV screen showing the current poisiton of the aircraft along with live videos from the onboard cameras.
FIRST CLASS
Emirates widely-known and apprciated First Class really gives you a private jet feeling aboard the bigges airliner in the world. Every of the 14 passengers has his or her own suite. Automated doors can be colsed for ultimate privacy. Of course every seat can be turned into a full flat bed, but in one of those suites I would recommend to stay awake and explore all of the awesome features that come with it rather than sleep through the whole flight. Every seat has a mini bar that can be opened or closed automatically, a bowl of various different snacks, sweet and savoury. Furthermore Emirates provides a writing kit and a hidden mirror that comes with a variety of cosmetics. It doesn't end here! If you want to take a nap, you'll recieve a complimentary pyjama, high quality slippers and more.
How about a shower? Also no problem! Two large bath rooms are available exclusively to the First Class passengers. They each have a shower and all kind of cosmetical products you need to prepare yourself for the meeting right after arrival. Including razors, a hair dryer, towels and much more!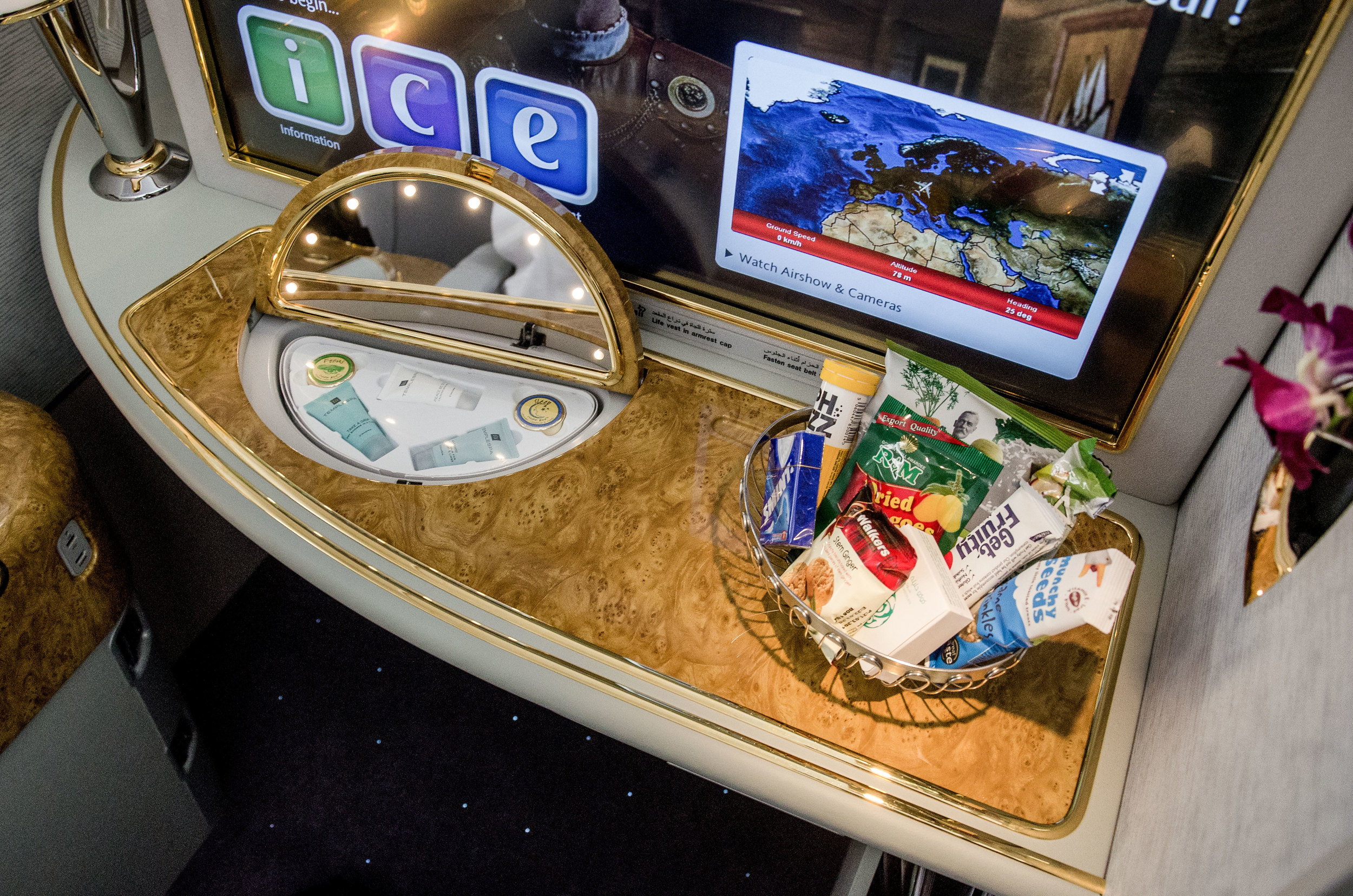 Emirates Airbus A380 is really worth a journey. You can see how much thought was put into the interior design thorughout all three classes. If we have the money for it one day, we will definitely try Emirates' First Class, sitting in one of the seats only for a few minutes was enough to convince me! :)